We are excited to announce a new & easy way for our clients to pay online! ClientCredit, powered by Affirm, allows you to pay your bill online, or finance your payment to the firm with no hidden fees, no late charges, and no surprises.
Pay Now
Click here to pay online: https://secure.lawpay.com/pages/duiheroes/operating

---
Pay Later
Benefits of Financing through Affirm
Convenient: Applying is quick and easy, and it won't impact your credit score.
Transparent: Know exactly what you'll pay up front – no hidden fees or surprises.
Flexible: Choose from easy monthly payment options that work best for your budget.
How it Works
Select the "Pay Later" tab as your payment method: Enter a few pieces of information for real-time decision. This check doesn't affect your credit score.
Choose a payment plan: See what payment plans are available for you. There are no hidden fees.
Pay over time: Make payments at affirm.com or in the Affirm app. Watch for text and email reminders when a payment is coming up.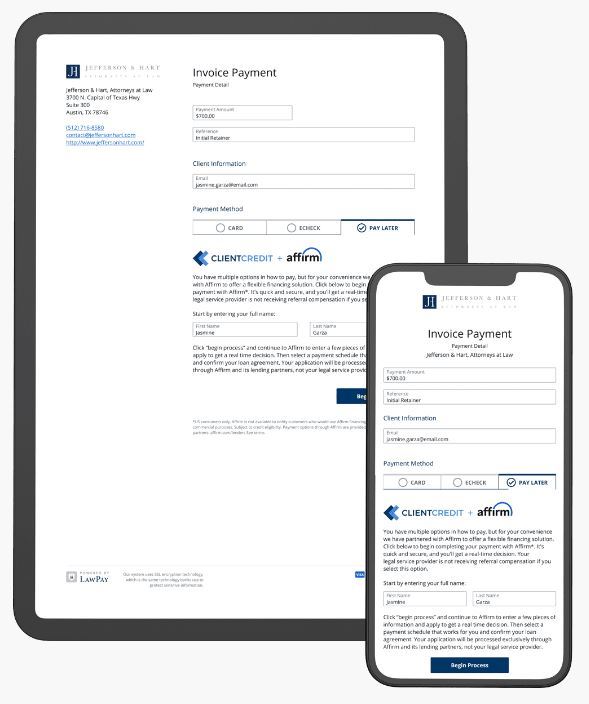 Frequently Asked Questions
What is ClientCredit?

ClientCredit allows law firms to access a legal fee lending solution that allows consumers to pay legal fees in manageable, scheduled installments online.

What is Affirm? Affirm flexible payment options offer customers the ability to pay over time, giving them control, convenience, and increased purchasing power. Please note Affirm financing is only available to individual customers and is not available to entity customers who would use Affirm financing for business or commercial purposes.
How do I apply for financing through Affirm? On the firm's payment page, you'll see an option labeled "Pay Later." Selecting this option will take you to an online application for financing through Affirm. To apply, you will be asked to enter a few pieces of information and will then receive a real-time decision.
Can I pay off my Affirm financing early? Yes! There's no penalty for paying early.
What are the interest rates and terms? The interest rate will be a 10 to 30% APR, depending on your eligibility. The term options are three, six, 12, 18 or 24 months. There are also no late fees.*
When is a consumer's first payment due?

A consumer's first payment is due approximately one month after the payment is processed (although the consumer may be asked to make a down payment depending on various factors such as eligibility or the size of the full loan amount).

Should I communicate with my lawyer if I have questions about my loan? You will need to contact Affirm if you have questions about your loan. They can be reached at www.affirm.com/help

.

What if I am not approved for financing through Affirm via ClientCredit? You will need to discuss this with your lawyer to see if they are open to a separate payment plan or an alternative arrangement.
How do I make installment payments for this loan? Please direct all installment loan repayment inquiries to our consumer financing partner, Affirm, and not to your attorney. You can make or schedule payments at affirm.com or in the Affirm app for iOS or Android. Refer to your loan agreement for more details.
Will using Affirm affect my credit score? Checking if you prequalify or applying for a loan through Affirm does not affect your credit. There are certain loans that do not include credit reporting. For example, a four biweekly payment 10% APR option would not be reported. In the cases where Affirm does report a loan to a credit bureau, it reports the full payment history, not just delinquent payments. This allows consumers an opportunity to build their credit history.


Delinquent payments may impact a consumer's credit score and may hurt their chances of getting another loan with Affirm, while positive ontime repayment may help build a consumer's credit history.

Why do I need a mobile number to use Affirm? You'll need a mobile number from the U.S. or a U.S. territory in order to help Affirm verify it's really you who is creating your account and signing in.
Can I pay multiple legal bills using Affirm via ClientCredit? Each loan through Affirm is subject to a separate eligibility evaluation and approval.
Do I have to use Affirm via ClientCredit to pay my attorney? No, you are not required to use Affirm via ClientCredit. Your lawyer is offering Affirm as a payment option, but you should ask them about other payment types they accept, such as credit, debit, or eCheck payments.
DUIHeroes and all associated attorneys and staff are not employed by or directly associated with ClientCredit or Affirm. ClientCredit and Affirm are separate entities. Using the provided links will redirect the browser to separate websites. DUIHeroes and all associated attorneys and staff are not responsible for and cannot assist with any discrepancies or legal disputes with ClientCredit or Affirm. For more information about Affirm, you should visit affirm.com.
"They supported and fought for me through all of my legal challenges!"

- L.W.

"I recognize and respect the team's level of expertise and professionalism..."

- Anonymous

"Thank you so much from the bottom of my heart!
Your Heroes in DUI Defense
Nationally Recognized Leaders